We have an extensive range of Accessible Compliant Washroom Products that allow people with a disability to access public and residential washroom spaces with ease.
When installed correctly, our Accessible Compliant Products are New Zealand NZS 4121:2001 Compliant (Section 10 – Toilet & Shower Facilities). This Standard specifies the design requirements for new building work, as required by the Building Code, to provide access for people with disabilities. In addition to the products we supply, we offer a comprehensive specification service to architects, designers and our customers to assist with specifying a compliant washroom.
Click on an Accessory photograph to view the relevant Specification Sheet.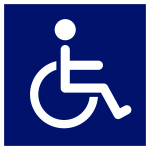 PAPER TOWEL / COMBINATION UNITS
SHOWER SEATS & SHOWER RELATED
SOAP DISH & SHAMPOO HOLDERS