Designing for Access and Mobility
Specifications & Resources

All of our Accessible Compliant products include this icon.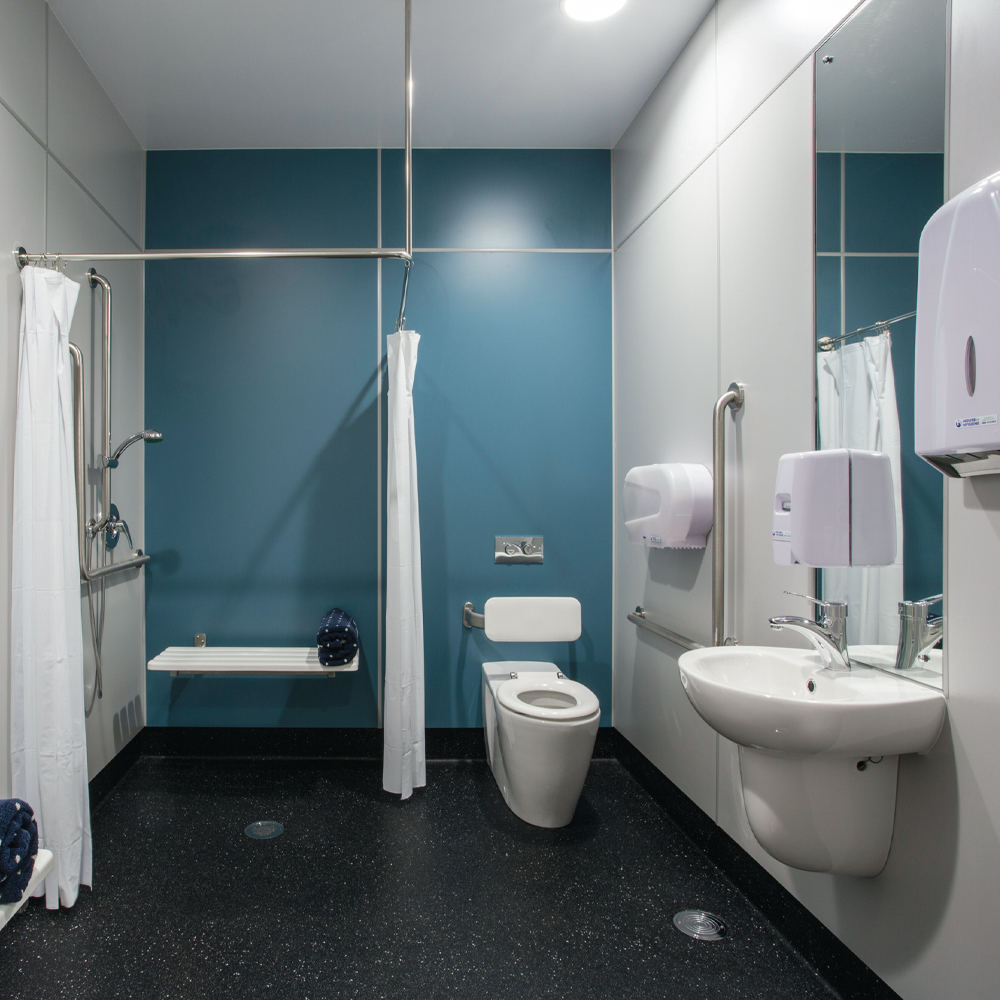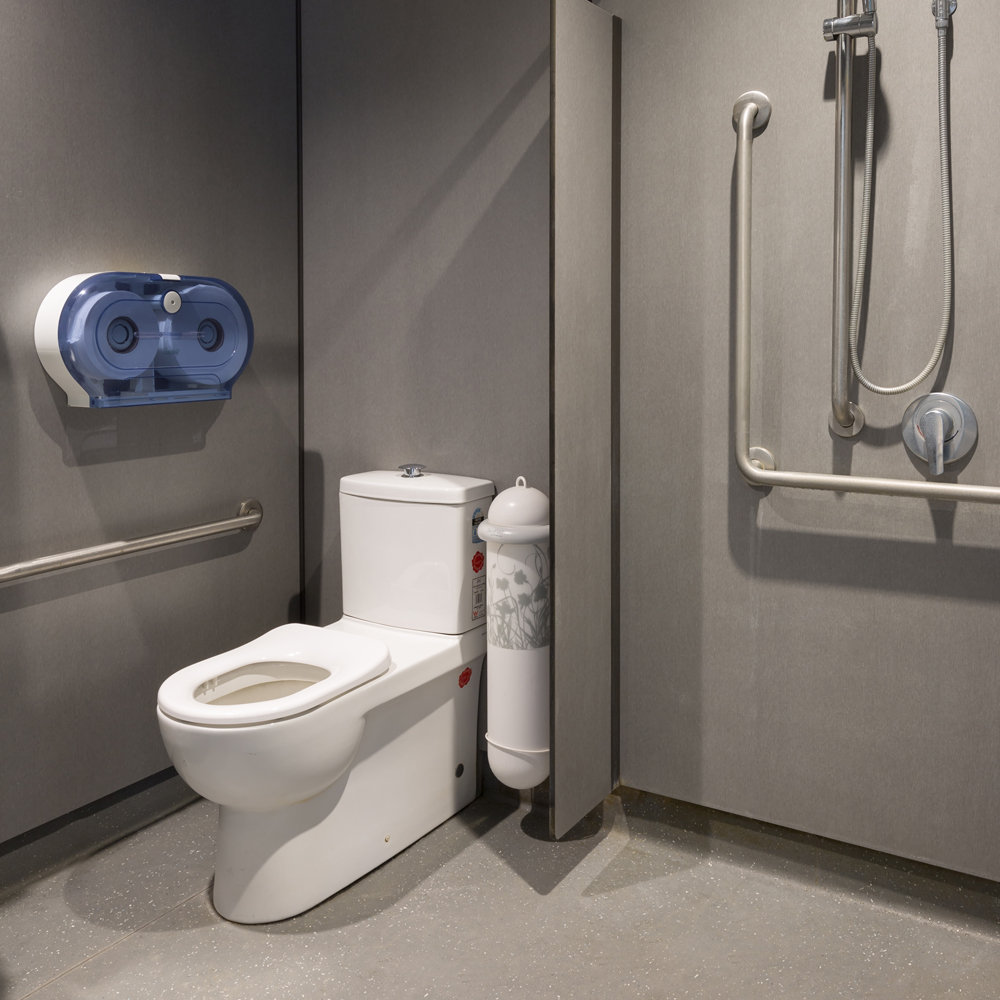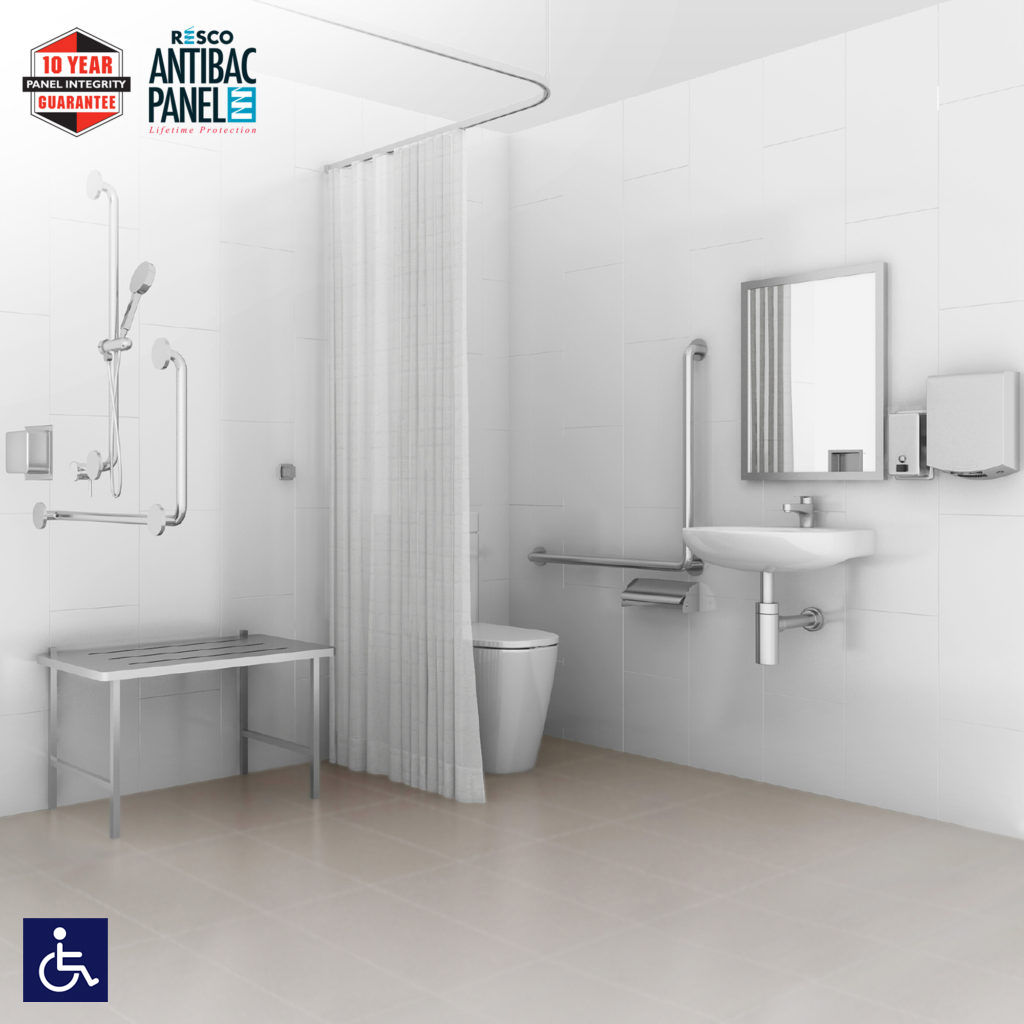 We have an extensive range of Accessible Compliant Washroom Products that allow people with a disability to access public and residential washroom spaces with ease.
When installed correctly, our Accessible Compliant Products are New Zealand NZS 4121:2001 Compliant (Section 10 – Toilet & Shower Facilities). This Standard specifies the design requirements for new building work, as required by the Building Code, to provide access for people with disabilities. In addition to the products we supply, we offer a comprehensive specification service to architects, designers and our customers to assist with specifying a compliant washroom.
If you have any queries, check out the links on this page or simply give us a call on 0800 800 950.
Why is Compact Laminate so good?
Compact Laminate has virtually unlimited interior uses. It can be used vertically or horizontally for toilet and shower cubicles, wall panelling, lab benches, tables, office furniture, lockers, in fact almost anything.
Being a tough durable product it can take the knocks a lot better than other options, making it a smart, cost effective choice. It's perfect for 'high traffic' locations and because it's impervious to water, is ideal in wet areas. And Resco's Antibac Compact Laminate panels have the additional benefit of containing innovative silver ion Biocote technology that continuously destroys bacteria for the lifetime of the panel.
As Compact Laminate is a pre-finished product, once it's installed there's nothing else to do – no filling, sanding or painting. And as for cleaning, it's incredibly low maintenance as most things can simply be washed off with soapy water. Even graffiti can mostly be removed without damaging the panel.
All Resco's systems come with a 10 year guarantee on panel integrity and 2 year guarantee on hardware.
New Zealand legal requirements forAccessible Buildings and Facilities
The two major pieces of domestic legislation that apply to accessibility of the built environment are the Building Act 2004 (NZ Building Code NZS 4121:2001) and the Human Rights Act 1993.
The Human Rights Act 1993 (HRA) makes it unlawful to deny a person access to a place or vehicle because the person has a disability − although this is subject to some exceptions. The Court of Appeal has ruled that providers of services to the public have to provide their services differently to disabled people if that is necessary to enable them to access the service. The court described this as a positive obligation to accommodate the needs of disabled people.
This obligation to accommodate is subject to a reasonableness requirement. The HRA states that building owners or service providers do not have to provide special services or facilities to ensure access for disabled people if such a requirement is unreasonable. Nor are they expected to provide a service for a disabled person where there is a risk that, by doing so, they will expose others to harm or infection.
Furthermore, these provisions are subject to the Building Act 2004.
New Zealand Building Act 2004 NZS 4121:2001 Design for Access and Mobility – Buildings and Associated Facilities
The Building Act is a regulatory framework, a licensing regime and a set of standards for building in New Zealand. Its purpose includes setting standards to ensure that buildings contribute appropriately to the health, independence and wellbeing of the people who use them. 
The principles of the Building Act include the need to provide "reasonable and adequate provision" for disabled people to "enter and carry out normal activities and processes" within the building. This must be taken into account when performing functions or duties imposed under the Act. 
The Act provides for the New Zealand Building Code (NZBC), which prescribes functional requirements for buildings and the performance criteria with which buildings must comply in their intended use. The Act also provides for compliance documents for use in establishing compliance with the building code. A person who complies with a compliance document must, for the purposes of this Act, be treated as having complied with the provisions of the building code to which the document relates. 
Section 118 of the Building Act requires that all new public buildings must make reasonable and adequate provision to enable disabled people to visit or work in those buildings, and to carry out normal activities and processes within them. These requirements also apply to alterations made to public buildings and where the use of a building is changed to make it public. These requirements do not apply to residential housing in New Zealand. 
NZBC Clause D1 prescribes the functional requirements and the performance criteria relating to access. The New Zealand Standard (NZS) 4121: 2001 'Design for Access and Mobility – Buildings and Associated Facilities' is a compliance document providing an acceptable solution to the functional requirements and performance criteria of NZBC Clause D1. This is the only compliance document specified in the Act. However, NZS 4121 is not mandatory and other means may be taken to establish compliance with NZBC Clause D1 Access. 
NZS 4121:2001 is New Zealand's accessibility standard on public buildings: it outlines what is required to make sure buildings open to the public are accessible to disabled people. This includes ensuring there is an accessible path from outside the building to all the main areas open for public use in the building. The Standards Council's consensual drafting process, which applies to the development of all New Zealand standards, ensures that disabled people were able to have an effective say in the coverage and content of the standard. The Act however recognises that the compliance document for the needs of persons with disabilities can be changed by an Order-in-Council, which is a notice of an administrative decision issued by the Governor General. 
The overall effect of legislative provisions related to accessibility is that the HRA makes it unlawful to discriminate unless certain (very limited) conditions apply. The Building Act (s.118 in particular) requires public buildings that are being built or renovated to accommodate the accessibility needs of disabled people. The importance of providing disability access is reinforced by the Act's reference to NZS 4121:2001 as a compliance document. This is the only time this occurs in the Building Act. 
If you have any queries check out the links on this page or simply give us a call on 0800 800 950.

Compliance Document forNew Zealand Building CodeClause G1Personal Hygiene.
For more information relating to the New Zealand Building code view the below link to "Clause G1. The link will take you directly to the relevant Section 4.0 People with Disabilities on page 17.